Mappiah has extensive experience and capability with auditing GSM, WCDMA, HSPA, LTE sites.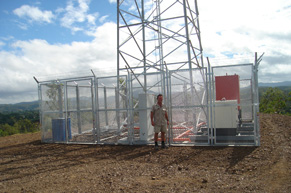 This includes network exchanges & hub sites, capturing, documenting and reporting on assets and infrastructure availability, current equipment configurations and connectivity. Mappiah can also report on the status of transmission, power, alarm and environmental control systems.
Site Feasibility Assessment & Line of Sight (LOS) Assessment

Mappiah executes client feasibility studies at telecommunication sites down to network element levels. Mappiah reviews and provides recommendations on network designs including the addition of network elements to both new or existing infrastructure, such as a base stations and transmission systems. Our assessments can also include a review of Greenfield locations, proposed civil construction & upgrades, and support systems such as transmission, power, alarm and environmental control systems.
LOS assessments are frequently undertaken as part of the overall feasibility study to determine LOS conditions between existing and new telecommunication candidate sites for microwave system connectivity. Mappiah LOS services include, desktop microwave path analysis, full radio planning and field LOS assessment & reporting.